Description
The 14th International Wireless Communications and Mobile Computing Conference (IWCMC 2018) will be held in St. Raphael Resort & Marina, Limassol, Cyprus, June 25 — 29, 2018. Under the theme of "Global Connectivity". IWCMC2018 will target a wide spectrum of the state-of-the-art as well as emerging topics pertaining to wireless networks, wireless communications, and mobile computing. Continuing the great success of previous IWCM events, IWCMC 2018 is anticipated to attract a large number of high-quality submissions and stimulate the cutting-edge research discussions among many academic pioneering researchers/scientists and industrial engineers/leaders from all around the world.
Call for paper
Description
The IWCMC 2018 program will feature a number of symposia, workshops, invited presentations, special sessions, and pioneering keynote speakers. More information can be found at the conference website: http://iwcmc.org/2018. Prospective authors are invited to submit original technical papers—up to 6 pages of length, using the EDAS link: https://edas.info/chair.php?c=23637 to various IWCMC 2018 Symposia and Workshops as listed in the conference website for possible publication in the IWCMC 2018 Conference Proceedings, which will be submitted in the IEEE Xplore Digital Library (pending). Selected papers will be further considered for possible publication in five special issues in the following Journals:
There will also be best paper awards, one best symposium award, and one best Workshop award.
Author guidelines
(Please READ all the way to the END, especially what is highlighted in YELLOW)
All submissions should be written in English with a maximum paper length of six (6) printed pages (10-point font) including figures, without incurring additional page charges (Maximum of 2 additional pages allowed (8 pages in Total), with over-length page fee – The over-length fee will be charged to each of the over-length pages, at 100 Euro per page in the final camera-ready version).
Standard IEEE Conference templates for Microsoft Word or LaTeX formats can be found at:
http://www.ieee.org/conferences_events/conferences/publishing/templates.html
1. Camera Ready Format
Manuscripts MUST take into consideration ALL reviews comments received.
Preparing Manuscripts MUST follow IEEE Two-Column format with single-spaced, ten-point font in the text (see:Template ) – The maximum manuscript length is six (6) pages (Maximum 2 additional pages (8 pages in Total)). All figures, tables, references, etc. are included in the page limit.
Please make sure NOT to number your pages. Do not insert any footers or headers. Do not use any PDF security features in submitted PDF files, i.e., they must be fully accessible and editable by the producer for numbering and other production purposes.
Very important: Please make sure you include the following 6 points in your FINAL camera-ready manuscript
Title
Names of ALL authors
Affiliation of ALL authors
Emails of ALL authors
Abstract
Keywords
Important Note: If any of the above 6 points is missing, your paper will be RETURNED to you as INCOMPLETE.
2. IEEE Copy Right Form
Download the IEEE Copyright Form, – (you may return only page 1 after you fill it & sign it accordingly)
Write the "Title", & "All authors" (where highlighted)
ONLY ONE author MUST Sign & Date in field 1) (where highlighted)
ONLY ONE author MUST Sign & Date in field 2) & 3) if it is applicable (for US Government agencies & Crown Government (UK, Canada, Australia) respectively.
3. What to SUBMIT
One author MUST submit BOTH:
Camera Ready Manuscript (pdf) &
Signed IEEE CopyRight Form (in any format: pdf, jpg, jpeg, pnp)
to the same EDAS link under the same EDAS number of the original paper submission.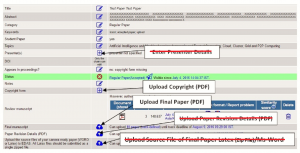 4. Other Items
Registration:
One author MUST Register & pay Conference fees through the safe portal:
https://www.smarteventscy.com/congress/iwcmc2018/
Presentation Mode:
All accepted IWCMC papers must be presented ORALLY, the presentation time is ranging between 10 to 20 min for each paper depending on your research findings & research results followed by questions from the audience.
Publications:
All accepted and PRESENTED papers will be submitted to be indexed by IEEE digital library (IEEE Xplore).
If you have any questions or concerns, please feel free to contact us at: info@iwcmc.org
NOTE:
If you need an invitation letter, please make sure you:
Register & pay first at:
Send a request to: info@iwcmc.org, stating:

Your full name
Your affiliation (University/Company name, Country)
EDAS # of your accepted paper(s)
Committee
Mohammad Hossein Anisi, University of Essex, UK
Mohammad-Ali Khalighi Ecole Centrale Marseille
Mohammadali Mohammadi, Shahrekord University
Mohammed Al Akhras, Canadian University Dubai, United Arab Emirates
Mohammed Ridouani, UH2C/EST
Mohammed Sayim Khalil, CoEIA, King Saud University, KSA
Mohsen Kavehrad The Pennsylvania State University — University Park
Momin Uppal, Lahore University of Management Sciences, Pakistan
Mostafa H Dahshan, CCIS, King Saud University, KSA
Motoharu Matsuura University of Electro-Communications
Mubashir Husain Rehmani, COMSATS, Pakistan
Mubashir Rehmani, Waterford Institute of Technology, Ireland
Muhammad Ali Imran, University of Surrey, United Kingdom
Muhammad Khalil Afzal, COMSATS Institute of Information Technology, Pakistan
Musbah Shaat, CTTC, Spain
Nacira Ghoualmi-Zine, Badji Mokhtar – Annaba University, Algeria
Naeem Abbasi, Qualcom Corp , USA
Naixue Xiong, Georgia State University, USA
Najah Abu Ali, UAE University, UAE
Nan Wu University of Science and Technology of China
Narayan Debnath, Winona S U , USA
Natalia Markovich, Russian Academy of Sciences, Russia
Natarajan Meghanathan, Jackson State University, USA
Nathalie Mitton, Inria Lille – Nord Europe, France
Naveed Bin Rais, AUST, UAE
Naveed Ul Hassan, LUMS, Pakistan
Necmi Taşpınar, Erciyes University, Turkey
Neelesh Mehta, Indian Institute of Science, India
Nelson L S da Fonseca, State University of Campinas, Brasil
Nenggan Zheng, Zhejiang University, China
Nesreen Alsbou, University of Central Oklahoma, USA
Nicola Larrieu, Ecole Nationale de l'Aviation Civile, Toulouse, France
Nicola Marchetti, CTVR Trinity College
Nidal Nasser, Alfaisal University, Saudi Arabia
Nirwan Ansari, New Jersey Institute of Technology, USA
Noel Crespi, Institut Telecom, Telecom SudParis, France
Nurul Mahmood, Aalborg University, Denmark
Omar Banimelhim, JUST, Jordan
Omer Ileri, TUBITAK, Turkey
Onur Altintas, Toyota InfoTechnology Center, USA
Osman Hasan, NUST, Pakistan
Osman Salem, Paris Descartes, France
Pascal Lorenz, University of Haute Alsace, France
Paulo Simoes, Coimbra University, Portugal
Pavlos Basaras, University of Thessaly, Greece
Pengfei Hu, University of California Davis, USA
Peng-Yong Kong, Khalifa University of Science, Technology & Research
Periklis Chatzimisios, Alexander TEI of Thessaloniki, Greece
Peter Dorfinger, Salzburg Research Forschungsgesellschaft mbH, Austria
Peter Mueller, IBM Zurich Research Laboratory, Switzerland
Philippe Hunel, U Antilles-Guyane, France
Phone Lin, National Taiwan University, Taiwan
Pierre Borgnat, ENS Lyon, France
Pietro Manzoni, Technical Univ of Valencia, Spain
Ping Wang, Nanyang Technological University, Singapore
Ping Yang, Binghamton University, USA
Pooja Vashisth, University of Delhi, India
Przemyslaw Pochec, University of New Brunswick, Canada
Pu Wang, Georgia Institute of Technology, USA
Qasim Ahmed, University of Kent, UK
Qi Wang University of Southampton
Qiang Ye, University of Prince Edward Island, Canada
Qilian Liang, University of Texas Arlington, USA
Rabeb Mizouni, Khalifa University, UAE
Rafa Marin Lopez, University of Murcia, Spain
Ralf Kernchen, University of Surrey, United Kingdom
Raphael Riebl, Technische Hochschule Ingolstadt, Germany
Ratul Guha, Telcordia Technologies, USA
Ravi Prakash, University of Texas at Dallas, USA
Ray-Guang Cheng, National Taiwan University of Science and Technology, Taiwan
Reijo Savola, VTT Technical Research Centre of Finland, Finland
Reza Hoshyar, National Semiconductor, United Kingdom
Riccardo Colella, University of Salento, Italy
Richard Demo Souza, Federal University of Technology – Paraná (UTFPR)
Robert Schober Universität Erlangen-Nürnberg
Roksana Boreli, NICTA, Australia
Rong Chai, Chongqing University of Posts and Telecommunications, China
Rong Yu, Guangdong University of Technology, China
Rong Zhang University of Southampton
Rongbo Zhu, South Central University for Nationalities, China
Rongtao Xu, Beijing Jiaotong University, China
Rongxing Lu, University of New Brunswick, Canada
Sabrina Sicari, University of Insubria, Italy
Sachin Shetty, Tennessee State University, USA
Saeed Ullah Kyung Hee University, South Korea
Sahar Talebi North Carolina State University
Salama Ikki, Lakehead University, Canada
Samer Rajab, Honda R&D Americas, USA
Sami Muhaidat, Simon Fraser University, Canada
Samia Jones, Texas A&M University at Qatar, Qatar
Sandhya Aneja, Universiti Brunei Darussalam, Brunei
Sandrine Vaton, Telecom Bretagne,France
Sangheon Pack, Korea University, Korea
Sanjay Madria, Missouri University of Science and Technology, USA
Sanjiva Prasad, Indian Institute of Technology, India
Satoko Itaya, NEC, Japan
Sattar B Sadkhan, University of Babylon, Iraq
Saud Althunaibat, AlHussein Bin Talal University, Jordan
Saverio Niccolini, NEC Europe Ltd , Germany
Sayed Jahed Hussini, Western Michigan University, USA
Sergio Gonzalez, University of British Columbia, Canada
Seyed (Reza) Zekavat, Michigan Technological University, USA
Shadha Tabatabai, Western Michigan University, USA
Shahid Mumtaz, Instituto de Telecomunicações, Portugal
Sherali Zeadally, University of Kentucky, USA
Sherali Zeadally, University of the District of Columbia, USA
Sherif Moussa, Canadian University Dubai, United Arab Emirates
Sherif Oteafy, DePaul University, USA
Shibo He, Zhejiang University, P R China
Shien-Kuei Liaw National Taiwan University of Science and Technology
Shiguo Lian, France Telecom R&D Beijing, P R China
Shih-Hao Chang, Tamkang University
Shin-Ming Cheng, National Taiwan University of Science and Technology
Shiu-Kai Chin, Syracuse University, USA
Shiwen Mao, Auburn University, USA
Shucheng Yu, Stevens Institute of Technology, USA
Shunqing Zhang, Huawei Technologies, Co Ltd , P R China
Sidi-Mohammed Senouci, University of Bourgogne, France
Sinan Gezici, Bilkent University, Turkey
Sofiene Tahar, Concordia University, Canada
Sok-Ian (Ines) Sou, National Cheng Kung University, Taiwan
Sonia Ben Rejeb, MEDIATRON Laboratory of Supcom, Tunisia
Sophia Petridou, University of Macedonia
Soufiene Djahel, Los Alamos National Laboratory, USA
Soumaya Hamouda, Carthage University, Tunisia
Stanislav Zvanovec Czech Technical University in Prague
Stavros N Shiaeles, Plymouth University, UK
Stefan Aust, NEC, Japan
Stefan Dietzel, University of Twente, Netherland
Stefan Dietzel, University of Twente, Netherlands
Stefano Giordano, University of Pisa, Italy
Suleman Khan, Monash University Malaysia
Sunyoung Han, Konkuk University, Korea
Syed Ali Raza Zaidi, University of Leeds, UK
Sylvain Gombault, ENST Bretagne, France
Symeon Chatzinotas, University of Luxembourg, Luxemburg
Tao Feng, University of Houston
Tao Luo, Beijing University of Posts and Telecommunications, China
Teresa Pepe, University of Pisa, Italy
Tevfik Yucek, Atheros Communications, USA
Theofilos Chrysikos, University of Patras
Thierry Gayraud, Toulouse University of Science, LAAS-CNRS, France
Thomas Gamer, ABB AG, Germany
Thomas Kamalakis Harokopio University of Athens
Thomas Little Boston University
Tiago J Cruz, Coimbra University, Portugal
Toktam Mahmodi, Kings College London, UK
Tolga Duman, Arizona State Univ , USA
Tomaso De Cola, German Aerospace Center, Germany
Tomoki Yoshihisa, Osaka University, Japan
Trung Q Duong, Blekinge Institute of Technology, Sweden
Tuncay Ertaş, Uludag University, Turkey
Valencia Koomson Tufts University
Vasileios Karyotis, Institute of Communication and Computer Systems (ICCS)
Vasileios Karyotis, National Technical University of Athens, Greece
Victor Leung, University of British Columbia, Canada
Vimal Kumar, The University of Waikato, New Zealand
Vincenzo Eramo University of Rome "La Sapienza"
Wael Dghais, Higher Institute of Applied Sciences and Technology of Sousse, Tunisia
Walid Serrai, U Paris-Est, France
Wan Tang, South Central University for Nationalities, China
Wanqing Tu, Glyndwr University, UK
Wei Chen, China University of Mining and Technology, China
Wei Song, University of New Brunswick, Canada
Wei Wei, School of Computer Science and Engineering, Xi'an University
Wei Wei, School of Computer Science and Engineering,Xi'an University of Technology, China
Wei Wei, Xi'an University of Technology, China
Wei Yuan, Huazhong University of Science and Technology, P R China
Wei Zhu, Samsung Electronic, Korea
Weidong Xiang, University of Michigan-Dearborn, USA
Weihan Goh, Singapore Institute of Technology
Weijun Qin, Institute of Software, Chinese Academy of Sciences, China
Weinan Gao, Georgia Southern University, USA
Weitian Tong, Georgia Southern University, USA
Wei-Tsong Lee, Tamkang University, Taiwan
Weiwei Fang, Beijing Jiaotong University, China
Wendong Xiao, University of Science and Technology Beijing, China
Wenjing Wang, University of Central Florida, USA
Winnie Cheng, IBM Research, USA
Xianfu Lei, Southwest Jiaotong University, China
Xiangping Zhai, Nanjing University of Aeronautics and Astronautics, China
Xianqing Jin USTC
Xiaohu Ge, Huazhong University of Science and Technology, China
Xin Guan, Keio University, Japan
Xin Liu, China University of Petroleum
Xin Sun, Ocean University of China, China
Xinbing Wang, Shanghai Jiaotong University, China
Xiulong Liu, Hong Kong Polytechnic University, China
Xu Li, University of Waterloo, Canada
Xuanli Wu, Harbin Institute of Technology, China
Yacine Challal, Université de Technologie de Compiègne, France
Yan Zhang, Simula Research Laboratory and University of Oslo, Norway
Yang Xiang, Deakin University, Australia
Yanjiang, Yang, Institute for Infocomm Research, Singapore
Yejun He, Shenzhen University, China
Yik-Chung Wu, The University of Hong Kong, Hong Kong
Yixin Jiang, University of Waterloo, Canada
Yiying Zhang, Korea University, South Korea
Yoshiaki Hori, Kyushu University, Japan
You-Chiun Wang, National Sun Yat-Sen University, Taiwan
Young-Chon Kim, Chonbuk National University, South Korea
Youngnam Han, KAIST, Korea
Youxiang Wang, Yeungnam University, Korea
Yuanguo Bi, Northeastern University, P R China
Yueh-Min Huang National Cheng Kung University, Taiwan
Yunfei Chen, University of Warwick, United Kingdom
Yves Louet, Centrale Supelec, France
Zhangbing Zhou, Institute Telecom & Management SudParis, France
Zhen Liu, Beijing Jiaotong University, China
Zheng Chang, University of Jyväskylä
Zheng Yan, Aalto University, Finland
Zhengguo Sheng, University of British Columbia, Canada
Zhenquan Qin, Dalian University of Technology, China
Zhiqiang Wu, Wright State University, USA
Zhiwen Yu, Northwestern Polytechnical University, China
Zhongliang Zhao, Universität Bern, Switzerland
Zhou Su, Waseda University, Japan
Zied Bouida, Texas A&M University at Qatar, Qatar
Zouhair Trabelsi, UAE University, United Arab Emirates
Zouheir Rezki, University of Idaho, USA